How To Run a Successful Facebook Ad Campaign In Nigeria.
Home
>
How To Run a Successful Facebook Ad Campaign In Nigeria.
Affordable Advertising On Facebook In Nigeria [Beginners Guide]
–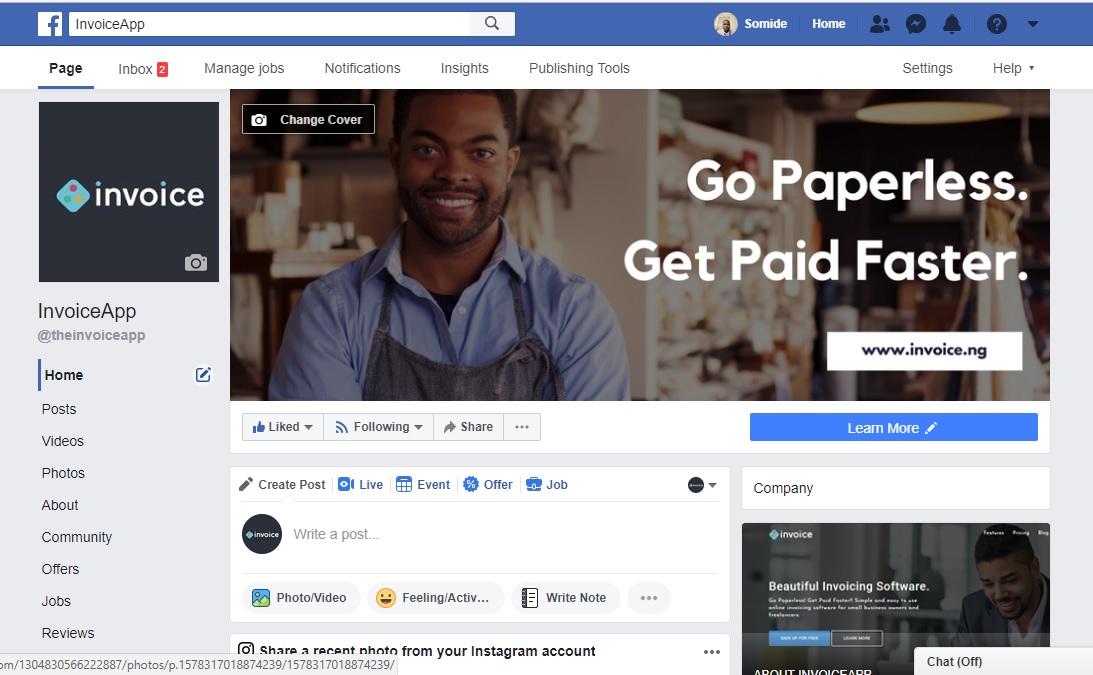 –
Their Size.
–
Facebook is huge, and they have just about any category of people you need to see your ads.
–
You can use Facebook to promote any kind og business; including fashion, retail business, Real Estate, Bulk SMS services, etc.
–
As at the second quarter of this year 2018, Facebook had a total of over 2 billion monthly active users in the world, and 20 to 25 million of these users are active from Nigeria on a monthly basis.
–
–
This huge number of active Facebook users in Nigeria means a great deal of an increase in substantial revenue for both Facebook and Nigerian entrepreneurs who know how to use Facebook for their business.
–
If you're looking at making more sales online or promoting a service, Facebook is the way to go. Irrespective of the purpose of your ad, whether you're promoting an event, selling a product (Be it physical or digital), sending traffic to a blog post, generating leads that you would convert to either potential clients or buyers. For whatever purpose, Facebook has got your back.
–
We are going to break down the whole process one after the other to help you have a full grasp of what to do, and how to go about doing it.
–
–
Cheap Advertising.
–
Isn't that good?
–
Getting to run adverts for a price that is so cheap when compared to the results you'll receive is what Facebook is known for. Facebook has got to be the cheapest means of advertising online. I mean, running an ad of say N50,000 to get a return of over a Million Naira for your business. Cheap right?
–
Wait now!, what you read earlier is relative, and dependent on a lot of factors, with how good you are at running a profitable Facebook ad of top most importance. Lots of small business are taking their businesses online, and Facebook has leveled the playing ground for them, so that they can market what they sell to their customers.
–
So whether you are SMS Service provider, or you own a different business, you can use Facebook to reach millions of Nigerians. If you're looking at starting an SMS business in Nigeria,  this article will help you get started.
–
Now let's go forward, but before then there this question that once bugged me or might have bugged you too was.
–
–
How Can Facebook be this huge for business?
–
I found out that that the answer is data.
Yeah, data!
Facebook has tons of data. looooootssss of it.
What Facebook actually sell is data and traffic.
–
Facebook advertising is Facebook showing your ads to a certain category of their users based on what you've used as your targeting. They are able to do this because of the amount of data they have. They get these data from the info their users share with them, from their activities on Facebook and even outside of their platform. I'll be right to say that Facebook is in the business of data.
–
–
Best way to advertise on Facebook in Nigeria
–
In starting out with advertising on Facebook, I'll advise that you set up a business manager instead of using your personal ad account. The Facebook business manager is a free tool that'll allow you to manage lots of Facebook Ad accounts. It's more of a house for all your business-related activities.
–
If your business (As a small business owner ) has a lot of people handling your social media business activity, I'll advise you use the business manager because you can add people (Employees) to the business manager and give them different roles depending on you. This will help enforce smooth working.
–
With that aside, in covering running a successful Facebook ad, you'll need to understand a few terms. Here they are;
–
–
Campaign
–
Simply said, this is what you're what to achieve with your ads. A campaign may have a number of ads within it, but the most important thing is that they all aim at fulfilling the same end goal. A campaign can also be a single ad. It all depends on what you choose.
–
Good marketers run multiple ads in one campaign to find out what works bests. Each of the ad sets would have a angle it is trying use to achieve the goal.
–
Let's say I'm running an ad to get people to sign up on my new SMS portal. I can create different Ad sets in the campaign, creating 2 ad sets targeting between ages 18 -24 and another ad set targeting between ages 25 -35. I could also have two more ad sets, each using the same age range as the ones above, but all four of them targeting different interests. The end goal is still to get traffic to my new Website/business.
–
There are a lot of combinations I can use. The idea is to see which works best, kill the ones that do not convert well and possibly increase the budget or stick with the ones that convert.
–
–
Ad Set
–
This I have shared a little when writing on campaign. They are a a group of related ads that fulfill the same objective for a particle campaign. They may have different budgeting, placement, Audience. But their end goal is the same. Such as driving traffic to that blog post on running a fail-proof Facebook ad I wrote on earlier.
–
–
Ads
–
This refers to a particular ad and all ad creative (The Image and the text). Simple enough.
–
–
Now Let's see how to set a New Campaign
–
It is pretty obvious that people do not go to Facebook to buy things or to subscribe for whatever. Nobody says to himself,
"I need to login to Facebook to see if I'll see a beautiful gown to buy"
Naah!
They go there mostly to while away time. To engage with friends and their family. To share their latest pictures and to do the rest of whatever it is they go to do there.
–
This brings a question.
–
How do you do it that your ad performs well, seeing that you're offering something outside the reason Facebook users' login to Facebook?
–
If your ad is to do well, it must do every of this these things
–
Get their attention.
Get them interested and then.
Make them take relevant action.
–
–
Let's go into the art of setting up your ad.
–
When you get into your ad manager account, be it your personal account or from the ad accounts on your business manager, you'll see the option to the create ad on that dashboard.
–
After clicking that option, you'll be directed to where you'll create the ad. And on the left-hand side of that page, you'll see the steps that you will go through in other to get the ad completed and ready for review.
–
They are; campaign, Ad set, and Ad… Each having its own sub-area all locked but opened when the one before it is completely filled.
–
–
Types of Facebook ads based on Campaign Objective.
–
This is you choosing what you want to achieve, telling Facebook the why behind your ad, and helping them to structure your ad in such a way that it meets the intended goal.
–
Let's take them one after the other.
–
–
#Awareness
–
This is usually to get people's attention, It's simply having an objective to solve some of their problems and make them get them to know you. You'll be running the ad to the landing page (like the blog post stated earlier). The idea behind this objective is not to make sales. You might think that it is a waste of money, but not exactly, The goal is not to only drive traffic to the landing page, traffic alone doesn't equal to sale. The goal however, is to with the traffic create a custom audience, by installing a Facebook Pixel on that page of the site.
–
Having a Custom audience will help you in your future Ad campaign because you'll be sending ads back to people who are already familiar with you. And it is easier to sell to people who have engaged with your content before. The future Ads will mostly fall into the next category of Campaign objective (Consideration). Under the awareness category, you'll find Brand Awareness and Reach
–
–
#Consideration.
–
Basically, this choice of objective is to help build leads. The audience you'll use at this point should be a lot easier. You can target the same audience that saw your ad on awareness using the custom audience you've generated or you can still target new ones using interest based targeting.
–
The list under this objectives are;
–
Traffic: This is simply straight-forward, you'll be optimizing to get people to your site. The landing page might be an Optin-page, a Pre-sell page, a blog post or a sales page.
Engagement: This ad objective is for getting an increased page like or event response.
App Installs: Getting people to install your application.
Video Views: This is used to get many people to view your video ads. Although I still prefer using other objectives and then using a video as the format.
Lead Generation: entails getting potential buyers and customers for your business.
–
–
#Conversion
–
This objective is used to get people to buy from you. It can be by driving traffic to your site or your store. Here you'll find catalog sales and Store visits.
–
–
Let's create an New Ad.
–
We'll still be using the campaign we chose earlier of getting people to our blog post of running a successful Facebook ad as our campaign.
–
After you've picked your campaign objective (the one I chose being traffic) and named it whatever you want, you'll now have to input the components of your ad sets.
–
We'll then have filled the name to the ad set and pick where we want the traffic to head to. Either to my website, App or Messenger.
–
–
Then we come to one of the most important areas of advertising on Facebook that goes a long way to determine how successful our Facebook will be.
–
–
How to target audience on Facebook in Nigeria.
–
The first thing we'll do is input our custom audience if we have one, but since we don't, we leave it blank. Next is to set the location of the people we want our ads to be shown to. You can decide to select the whole country as a targeting option, or you select specific locations within the country as your target location. You alone have to search for the location and Facebook will show them to you.
–
–
Then depending on what your ad is about who you're targeting, you select their age bracket, and gender.(I randomly picked an age range of 20 – 44,).
–
Here comes the detailed targeting area (This covers the Interest-based, demographics based and the behaviors of the Facebook Users on Facebook.)
–
–
To be very successful with this, you must be able to research the audience to target. You'll select which keywords your audience will be interested in and Facebook will use that to determine your audience.
–
Further targeting may require you to narrow your audience or exclude some people from your audience to get more specific with who you're targeting. Let's say you target People who are interested in Bulk SMS, then you decide to Narrow that targeting to get people interested In Digital Marketing…
–
What this means is that Facebook shows your ad to people who have shown an interest in Business in the location you've picked earlier but these people must have also shown an interest in digital marketing.
–
Then we now decided to exclude among these people (having interest in business and digital marketing) those who have shown an interest in online betting.
–
It's like saying… show my ad to people who are interested in business, but they must also be interested in digital marketing and not be interested in betting.
–
See image below.
–
Now let's take a look at deciding where your ads will be placed. Facebook gives you an option of automatically placing your ads for you but you can edit that and choose where you want the ads to show.
–
Personally I love to stick with feeds and sometimes right column when I want my ads to be placed on Facebook.
–
You can place the ads on Instagram., Audience Network, (This is Facebook also placing ads outside their platform Facebook. Might be on games, Opera…). Then you also have on Messenger.
–
Here's the list of the places where your ads can be placed, and depending on your campaign, you check the ones you want.
–
For better targeting, you can also select the operating system on mobile devices you want your ads to be targeted, either Andriod or IOS.
–
This works well as long as you're sure majority of your target audience use the operating system you choose.
–
Broad Audiences are not ideal.
–

When checking your audience size, try to make sure the size isn't too broad. Limit it to a few hundred thousands and avoid getting to millions. Using broad targeting might make Facebook show your ad to audience that are not relevant, and increase the chances of your ad being seen as a spam. The idea is not to show the ad to a lot of people, but to show it to people interested and likely to engage with it.
–
–
Now to budgeting.
–
Here comes the money talk.
–
You can select what you have to spend on the ad per day and how long you want it run. It could run on a lifetime, or end on a specific date. All is your choice. But you determine how much you want to spend, depending on how long you've set your campaign to last for.
–
–
A little look at the Facebook Pricing Structure.
Firstly understand that you can run your ads on Facebook on any budget you have. But then your overall spend will determine your result. So you can select how much you want to pay over the period the ad will be running. But note that Facebook ads placement works like an auction.
–
As an advertiser, you can decide to choose how much you want to bid for whatever you're optimizing for. Since we were running traffic to a site, we'll most like be paying for link clinks, and so we can decide to select how much we'll want to pay per link clink.
–
Or we can decide to allow Facebook automatically determine a bid for us, they'll use the total amount we have decided to use as our budget and how long we have chosen our ad to run for, then get a possible amount for us to pay per link click.
–
Understand?
–
You might find that some of your ads perform so much that you pay little for the result. This is because your ad is seen as relevant and has a lot of engagement. Facebook has a priority of delivering the best of content to its users, because when their users are happy, Facebook is happy, and then you'll also be happy. (You pay less) That is why you should always have the people in mind throughout the ad creation process.
–
–
The Ad itself.
–
This to me is pretty straightforward, you'll select the Facebook page you want to use to run the ad, and its Instagram handle (If you included it as part of the placement options).
–
At this point, you'll pick what format you want to use for your ad. Here is a list of the available format types.
–
Carousel: You'll be creating your ad with 2 or more images or videos that are scrollable.
Single Image: Self-explanatory right? Here you use one image for your ad.
Single Video: Exactly the same with that of the single image, except that you'll be using a video instead.
Slideshow: This is making a video for your ad with still images up to 10 to make an ad. With an option of a background music.
Collection: created specifically for mobile, is pretty new and used to help people mainly vendors showcase their products
–
Among all this format, I'll advise using the single image and single video.
–
Note that Facebook shuns on a picture having a lot of text on the image, you shouldn't use images that have 20% of the image covered with text. So when using images with very little or no text is preferable.
–
Now at this point, you'll have to place in the Text the audience will read, the Headline and the link to the landing page.
–
Then you'll select the appropriate CTA (Call-To-Action) button suitable for the objective of the campaign.
–
Let me give you a  piece of advice. Wait a significant amount of time like 12- 24 hours  after the review  before changing or editing anything on the ad. This is because you have to allow the ad to run for that significant time in other to gauge its success. Don't be in so much hurry to change parts of the ad until after that much time. And if you're not seeing the desired result, then go ahead.
–
Just to add, I believe you every small business in Nigeria no matter what they sell can use Facebook as a marketing platform to increase their brand awareness, leads, and sales.
–
My Facebook ads best practices
–
Let me list a few of the things that I consider as Best practices for your Facebook ad.
–
Put the audience at heart. Understand them, know what can entice them, and make sure you target the ideal ones.
Try to always have a Very Visual ad. Be specific about the image, That's usually the first point of attraction. Remember that the idea is to stimulate interest in the viewers.
Make sure your ad is relevant for those you're targeting, else you'll be shooting yourself on the foot. Make sure the landing page they are heading to is exactly what you told them they'll head to.
Learn to build trust with Facebook, by paying what you owe them when due. Facebook tends to give more slack t older ad accounts that have spent a number of years with them and spend well advertising with them
In your Ad text, have an offer that's believable yet captivating. Don't let your village people allow you lie to this people.Always make sure your call to action is very clear. Even with a clear call to actions, a lot of Nigerians would still ask you what was clearly stated in the ad. Imagine if you don't state it, or state it clearly?
Have a good understanding of the Facebook Ad policy, else you'll have big issues with Facebook when creating your ads and running them.
–
Read about the kind of ads they don't approve (I think in this category falls things like sex-related, politics e.t.c), and other possible reason an account can be flagged. This is very Important because Facebook does not take ignorance as a an excuse.
–
–
Conclusion.
This is how to run a successful Facebook ad in Nigeria
Using them for your business will be one of the best business decisions you'll take.
And You can get started in an hour or less. If you read through this.
And I believe it is those who makes use of the opportunity that Facebook brings that will enjoy the reward.
A reward can be increase in sales for your business of that of your client.
Share with me your thoughts as a comment and feel free to ask any question you have.